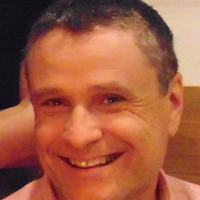 PHILIPPE BROUSSE, Gérant de NATURALBNB - Chambres d'hôtes biologiques et éthiques !
Live an original experience at "NATURALBNB" in a clean, calm and comfortable place by choosing your thematic room in a soothing atmosphere!

Call me on 06 68 86 89 21 or book online to benefit from the best direct rate!
In a small family business focused on ecological and ethical values, you will stay in Villeurbanne, close to Lyon, and public transport:
- 5 mins walk from 4 bus lines C17, C26, 37 and 69.
- 15 mins walk from the metro, line A ("Gratte Ciel" stop) which goes directly to downtown Lyon in 5 stops.
- 15 minutes from the T1 tram ("Insa-Einstein" stop) which goes directly to La Part Dieu station.
If you wish, you will benefit from a rich breakfast adapted to your desires (sweet, salty, vegetarian, vegan, gluten-free ...), a free parking space in a closed residence (with a beep to enter and exit freely with your car), a shared kitchen, a washing machine, a dryer ... and everything you need (towels, organic hygiene products ...
You will just need to bring your suitcase as everything else is provided to you on site!
You can choose to make an online payment, completely secure (you pay no deposit and your bank card will only be charged during your stay) or you book by calling me on 06 68 86 89 21 and you will have no advance fees to do (you will pay directly on site). An invoice is provided to you upon your request.
By booking directly, you will pay less than anywhere else on the site (call me!) AND you will have no penalty for cancellation at any time!
I will be happy to chat with you on 06 68 86 89 21.
Your 100% satisfaction: if you are not satisfied with your stay and you go directly with me, you can request a refund!
Don't wait to book your cozy nest because the rooms are in high demand!
To make your own opinion on "NATURALBNB", I advise you to read the opinions of various hosts who have stayed in guesthouses by typing on Google "
Google Reviews Naturalbnb
" (rating of 4.7 / 5) or d 'go to the website "
chambres-hotes.fr
" (rating of 9.7 / 10) which is THE national reference website in France for guesthouses!
We look forward to welcoming you with simplicity and cordiality as part of an ethical approach, respectful of people and the environment!

Philippe


56 Rue De La Filature
69100 VILLEURBANNE
FRANCE